Posted: Wednesday, March 15, 2017 1:14 PM
---
One Room Suites Available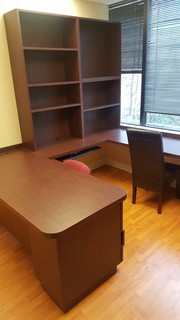 Location:
I75/I285
In this ad we are featuring a nice one room office suites. At the moment, we have one available. These offices are have their own entrances, not just a one room office inside of someone else's office
Suite 330-L .....One room, $345 per month, wall to wall windows, .....$345
Act quickly, our 1 room offices dont last long!!!
We do have a common area conference room for all to use.
Utilities are included, except phone and internet service. You can get phone service for $50 that would include free WIFI.
Are you looking for office space in an attractive, well-maintained office building that offers maximum flexibility?
WE HAVE THE BUILDING & the
right LANDLORD
for YOU!
We have a prestigious building with an Atlanta address, but is located off Windy Hill Road and Terril Mill Road just off I75 near I-285 in Cobb County at 1755 The Exchange, Atlanta, GA 30339. You can have the
Atlanta address
without the commute.
The building features elaborate landscaping on the exterior and an attractive interior featuring granite floors in the common hallways.
TheLandlord also offers quite a bit of flexibility. Instead of being stuck in a 5 year lease, the Landlord will offer two year leases, sometimes with one year lease cancellation clauses, of course depending on any buildout or changes requested. In any case, the Landlord still allows the Tenant to move into larger and smaller office suites if the Tenant so desires, again under normal conditions.
We also have two and three room offices available in the prices range of $495 to $785. Call for availability.
Also, the Landlord has a second 50,000 square foot buildings within a few blocks, again offering a bigger variety of spaces that are potentially available. We have probably 40-50 large one room offices in the $295 to $335 price range, as well as two room offices in the $495 to $585 price range...........770-912 5701.
CALL Friedrich at 770-912-5701
for updated information and a viewing as availabilities change quickly! revised February 25
Available Date:
Mon Mar 13, 2017
Additional Costs:
phone & internet
1755 The Exchange
Atlanta, GA 30339
View Map
All information in this site is deemed reliable but is not guaranteed and is subject to change
• Location: Atlanta

• Post ID: 53673727 atlanta