Posted: Sunday, March 12, 2017 6:50 PM
---
107 Technology Parkway NW, Norcross, Gwinnett County, GA 30092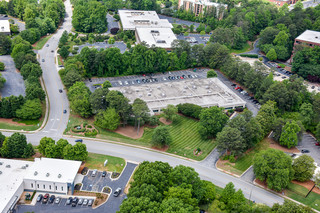 Location:
Norcross
The building is presently demised as 42,794 RSF of pure office and is metered for a single tenant of that size.
The building was previously a multi-tenant flex facility. Dock high doors on the rear of the building have been filled with storefront glass but could be reclaimed if necessary for your use.
The base rent is $10.95/RSF on a modified gross, as is condition, basis. Landlord willprovide one half month per year of lease term in free rent.
Tenant shall pay its own utilities, sanitation and janitorial service fees and all other operating costs directly to the providers. In addition, Tenant would pay as additional rent to Landlord $0.93 in pass thru expense as outlined on the attached CAM budget detail. Tenant would pay as additional rent in subsequent years any increase in the property tax or insurance expense above the base year amount shown on the attached CAM budget.
Landlord will gladly finance tenant improvements, at some premium above the base rate, subject to and dependent on the credit worthiness of tenant and the amount of lease term.
The building is currently configured with 189 parking spaces or 4.5 spaces per 1,000 SF of leased area. It is possible to provide additional parking for tenant on the existing land. There isno additional charge for parking.
Tenant has access to its space and direct control of its own HVAC 24 hours per day and seven days per week.
We have a tremendous amenity base, much of it within walking distance. The property is within walking distance to the Wesleyan School and just a few minutes from The Forum. I-285 is a ten minute drive to the south.
The owner and its management have a high touch approach to meeting the needs of their customer/tenants. See how we recently met the unique needs of our customer:http://www.youtube.com/watch?v=VNyioHCA3Bo.
Please let me know what additional information you require. We are eager to show you the building at your convenience.
To see all our listings visit http://showcase.costar.com/tstokes@epicity.com.
Please let me know how I can be of further assistance.
Rent:
$39,000.00 per month
Available Date:
Tue Dec 01, 2015
Minimum Lease:
negotiable
107 Technology Parkway NW
Norcross, GA 30092
View Map
All information in this site is deemed reliable but is not guaranteed and is subject to change
• Location: Atlanta

• Post ID: 57771608 atlanta